Read Time:
2 Minute, 5 Second
Uwell, a top electronic cigarette manufacturer, has just launched its newest product, the DK5000 disposable e-cigarette. This innovative item is the world's first semi-knockdown (SKD) vape, allowing for effortless assembly and disassembly by the user.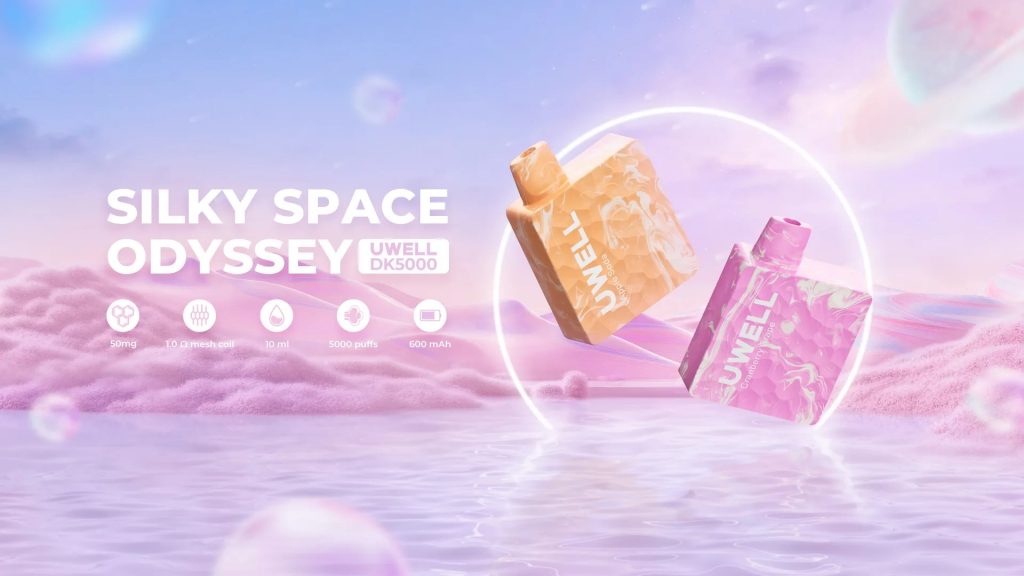 It's common knowledge that the UWELL CALIBURN line has gained widespread recognition in the vaping industry for its exceptional coil capabilities, earning heaps of accolades and awards. The DK5000 reportedly incorporates the same cutting-edge coil technology, a first for UWELL disposables.
Now let's explore the pioneering product DK5000 from UWELL.
About SKD(Semi-Knocked Down)
What sets the DK5000 apart from other disposable e-cigs is its SKD shipment capability. Distributors can now customize their flavors by using UWELL's filling machine with their preferred e-liquid, resulting in lower costs and higher efficiency. This humanized approach to distribution caters to the unique needs of distributors, making it easier to meet the demands of their customers.
Hammered Texture, Concave and Convex
One of the key features of the DK5000 is its unique hammered texture, which gives it an artistic and comfortable feel. Under the special craft, every hammered shape is unique and irregular. Unlike the normally flat surface, the hammered texture shows both art aesthetics and a fantastic experience.
Three Outlook Styles: Marbling, Starry, and Pure Color
The device comes in ten different colors and three different designs, including Speckled, Flow Liner, and Polishing, allowing users to choose a style that suits their personality and taste.
Newly Upgraded Mesh Coil Extends From The CALIBURN
Another significant enhancement of the DK5000 is the newly upgraded mesh coil, which delivers a superior vaping experience. The CALIBURN mesh coil technology, combined with the patent Pro-FOCS Adjustment Technology, ensures high restoration and excellent performance. The 1.0Ω mesh coil produces rich, pure flavors and delicate vapors, thanks to the high-grade pure cotton used in its construction.
In conclusion, the UWELL DK5000 Disposable E-cig is a pioneer with SKD availability in the vaping industry, offering unique features that cater to the needs of distributors and users alike. With its innovative design, superior performance, and SKD shipment capability, it is sure to be a popular choice among vapers worldwide.
UWELL DK5000 is now a hot sale on the official website. Come and explore more information about it and other new products.
WARNING: This product contains nicotine. Nicotine is an addictive chemical.
For more details, please refer to https://www.uwelldisposable.com/products/gabriel-dk5000
0
0