Read Time:
3 Minute, 48 Second
ELFBAR, one of the leading brands of disposable e-cigarettes, is marking its 5th anniversary this year. And it has a lot of surprises in store for its customers and fans around the world. 🥳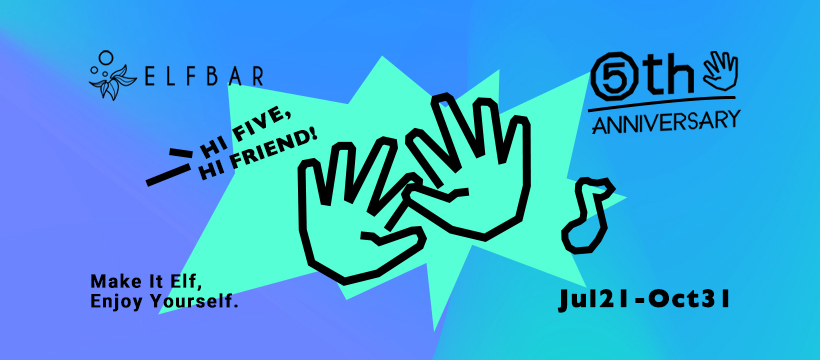 The brand has announced a series of online and offline events and giveaways that will run from August to October. Participants can enjoy music festivals, online games, and exclusive merchandise, as well as win amazing prizes.
ELFBAR HI-FIVE Carnival: A Global Music Festival Experience 🌍
ELFBAR has teamed up with some of the most popular music festivals around the world to offer its customers a unique party experience. Customers can attend these festivals and enjoy the best music, dance, and fun with their friends while trying out ELFBAR's delicious flavors. Elf BAR celebrating this milestone with 12+ offline events in 10 countries worldwide, where more than 1.6 million people will come together!
Some of the festivals that ELFBAR is sponsoring are:
Street Parade in Zurich, Switzerland 🇨🇭, 12 AUG
Primer Festival in Athens, Greece 🇬🇷 , 27 AUG
Kaboom Festival in Kuala Lumpur, Malaysia 🇲🇾
Indian Spirit Festival in Eldena, Germany 🇩🇪
Rewind South in Henley 18-20 AUG.
The Bay Series in Cardiff Bay 6-10 SEP
Kaboom Festival inKuala Lumpur 4-6 AUG
Mivas in Kuala Lumpur 12-13 AUG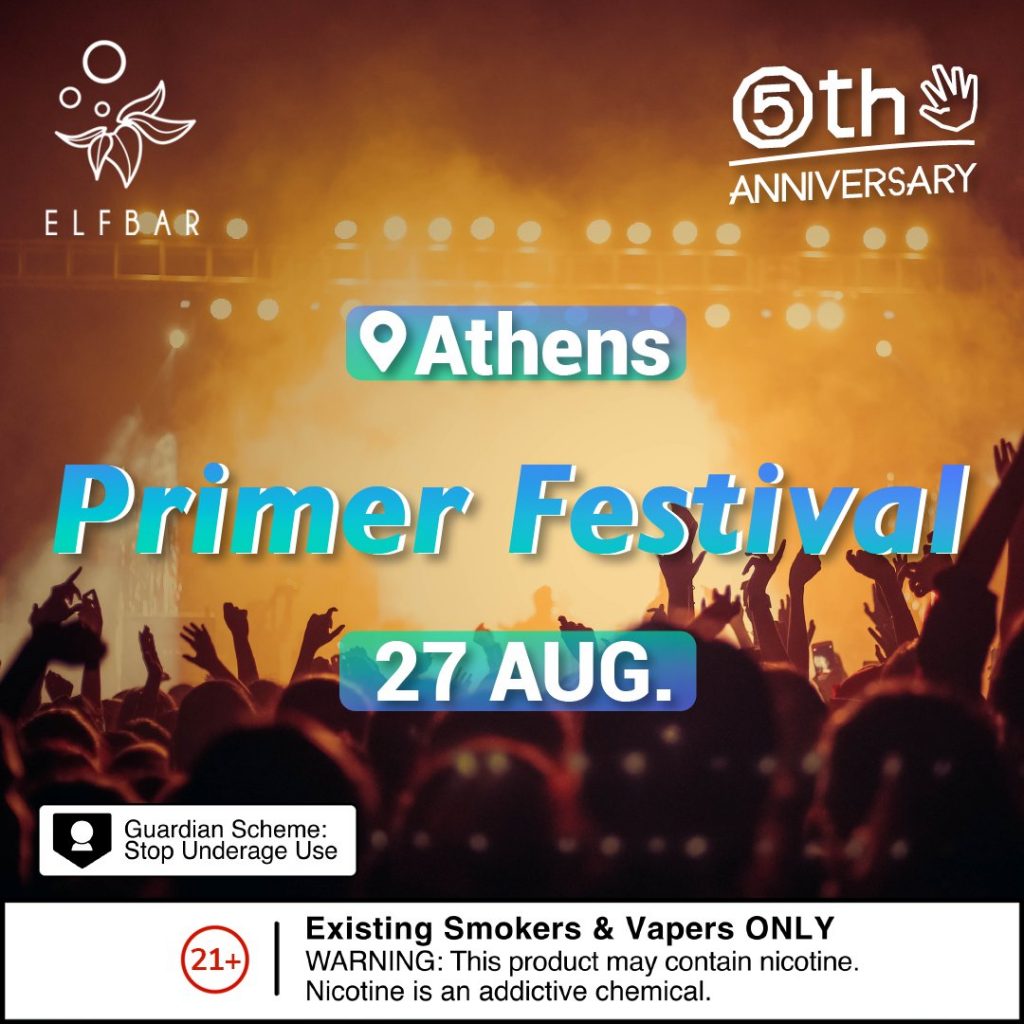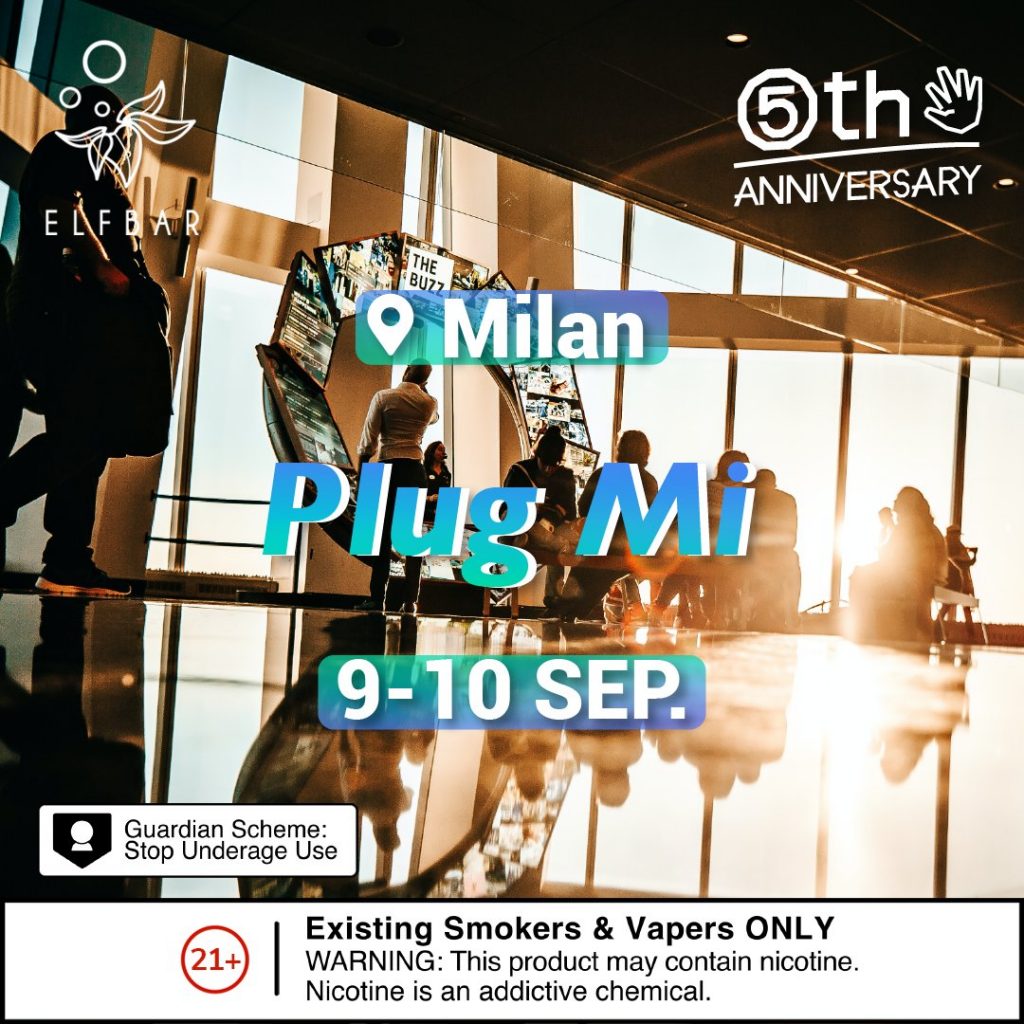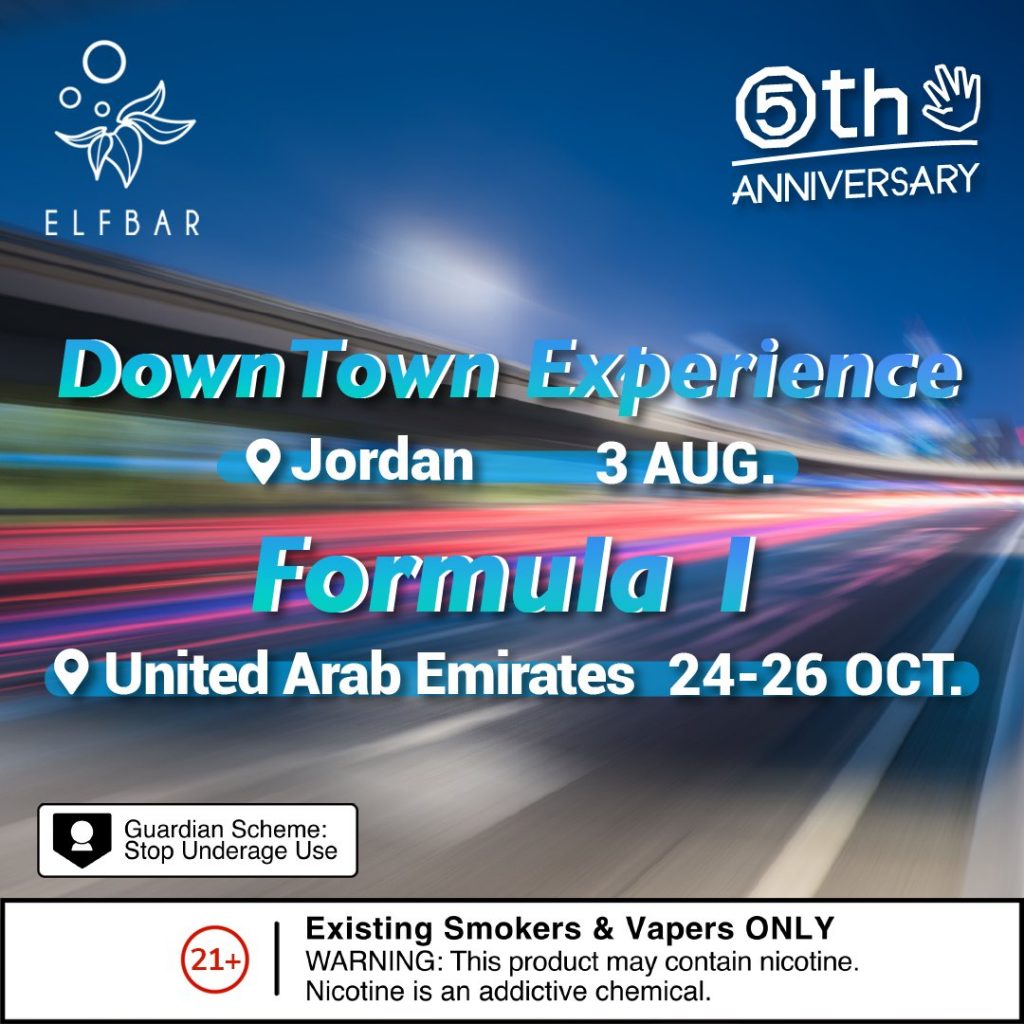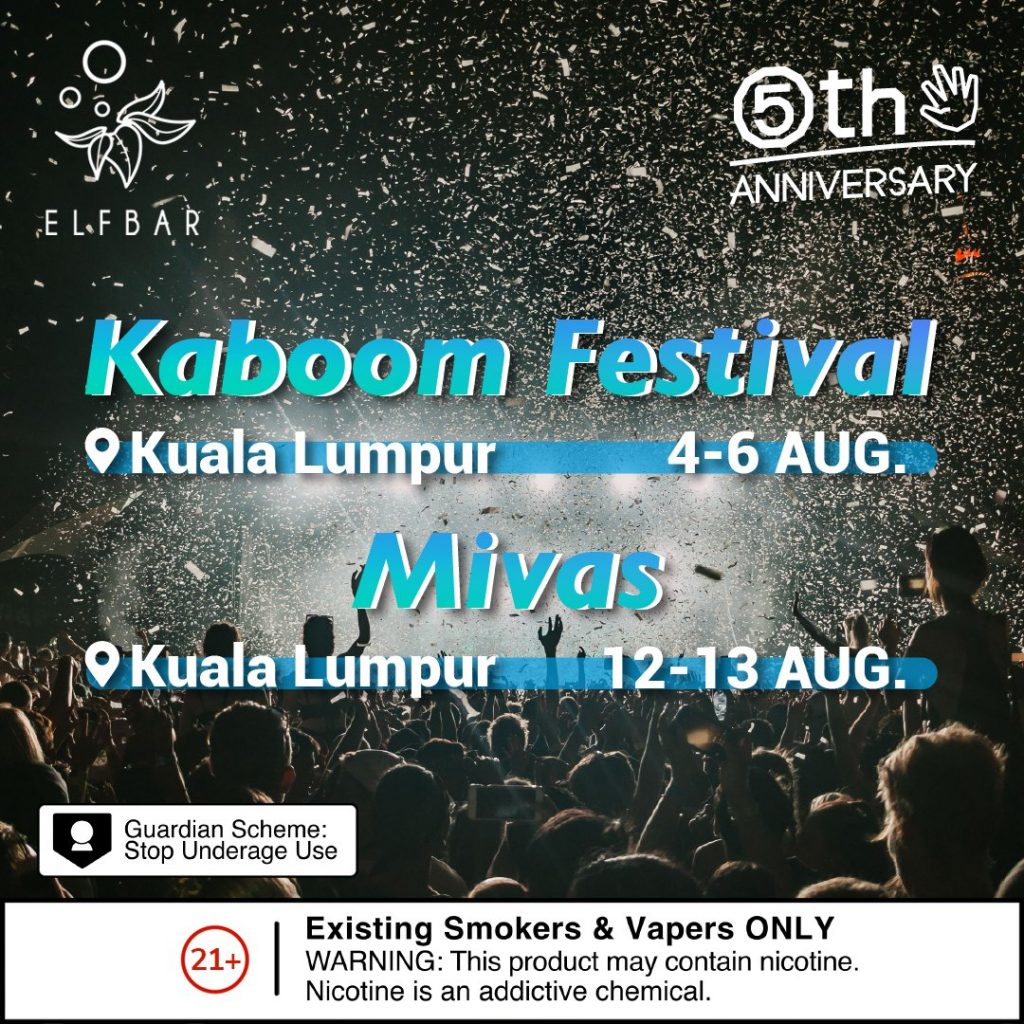 And many more! Customers can check out ELFBAR's website for the full list of events and locations. They can also follow ELFBAR's Instagram account [@elfbar_official] for the latest updates and photos.
ELFBAR 5th Anniversary Gift Boxes and Merchandise: A Special Treat for Loyal Customers 🎁
To show its appreciation and gratitude to its loyal customers, ELFBAR has prepared some special gifts for them. Customers can win exclusive ELFBAR 5th Anniversary Gift Boxes and Merchandise by joining ELFBAR's online events on Discord.
The gift boxes contain a variety of ELFBAR's best-selling products, such as:
ELFBAR 1500 Puffs Disposable E-Cigarettes
ELFBAR 800 Puffs Disposable E-Cigarettes
ELFBAR Crystal Disposable E-Cigarettes
ELFBAR Mate Disposable E-Cigarettes
ELFBAR Pod System Starter Kit
ELFBAR E-Liquid Bottles
The merchandise includes some cool items, such as:
ELFBAR T-Shirts
ELFBAR Hoodies
ELFBAR Caps
ELFBAR Mugs
ELFBAR Stickers
And more! Customers can also collect ELFBAR's fantastic sticker collection for all their ELFIES. Each sticker represents one of ELFBAR's flavors and has a unique design.
How to Join the Online Events and Win Prizes? 🎉
It's easy! All customers need to do is join ELFBAR's Discord channel and follow the instructions for each event. Here are some of the events they can participate in:
ELFBAR 5th Anniversary Big Prize: This is the grand prize of the celebration. Two lucky winners will each get one gift box and one gift card worth over 2000 USD! To enter, customers simply need to react with a dedicated emoji on the giveaway post on Discord.
ELFBAR Check-in Events: These are monthly events that happen on the 5th, 10th, 15th, 20th, 25th, and 30th of every month. Five winners will be selected per check-in. To enter, customers simply need to complete the check-in tasks on Discord. The more they check-in, the higher their chances of winning the big prize!
ELFBAR Connect Master: This is a fun and challenging game that tests customers' memory and speed. They will be randomly assigned to one of five teams and compete with other players to connect as many pairs of cards as possible. The winning team will receive an extra prize!
These are just some of the events that ELFBAR has prepared for its customers. There are more surprises waiting for them on Discord. So don't hesitate and join now!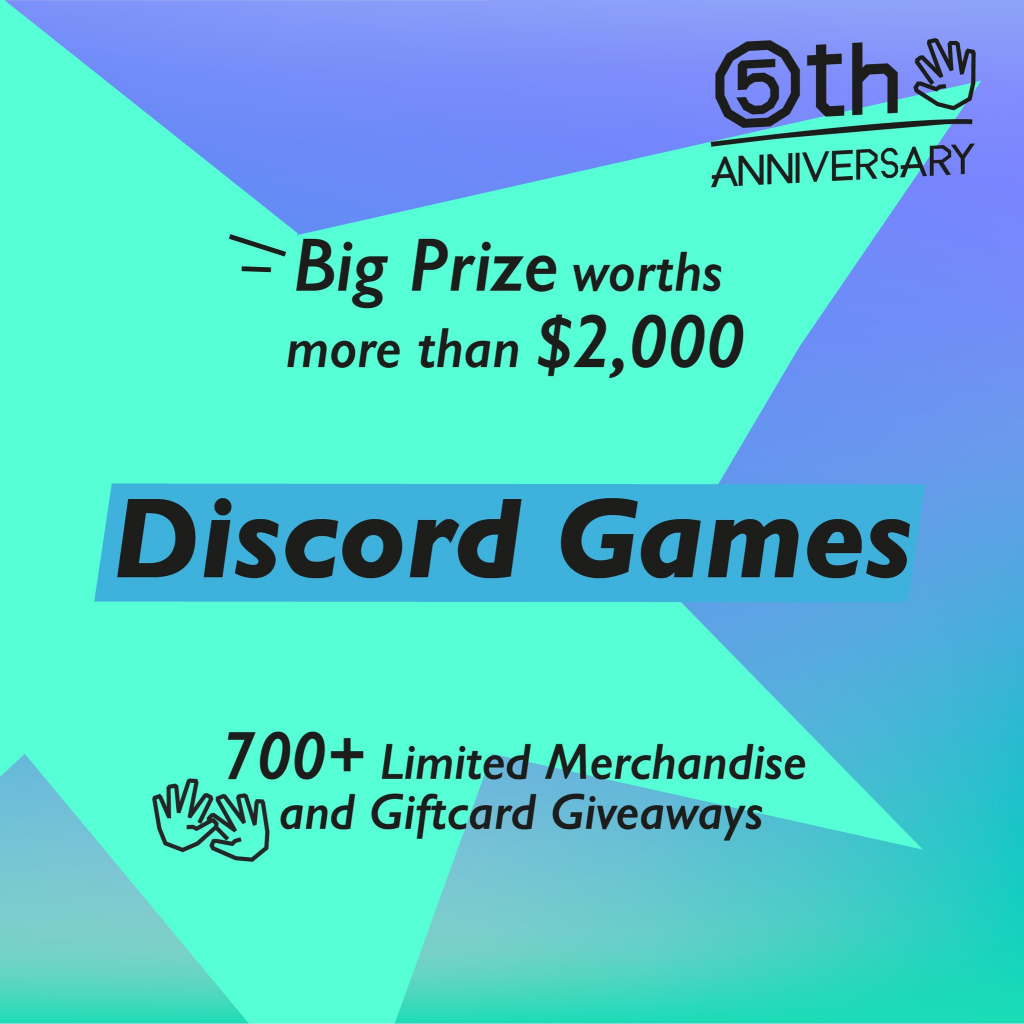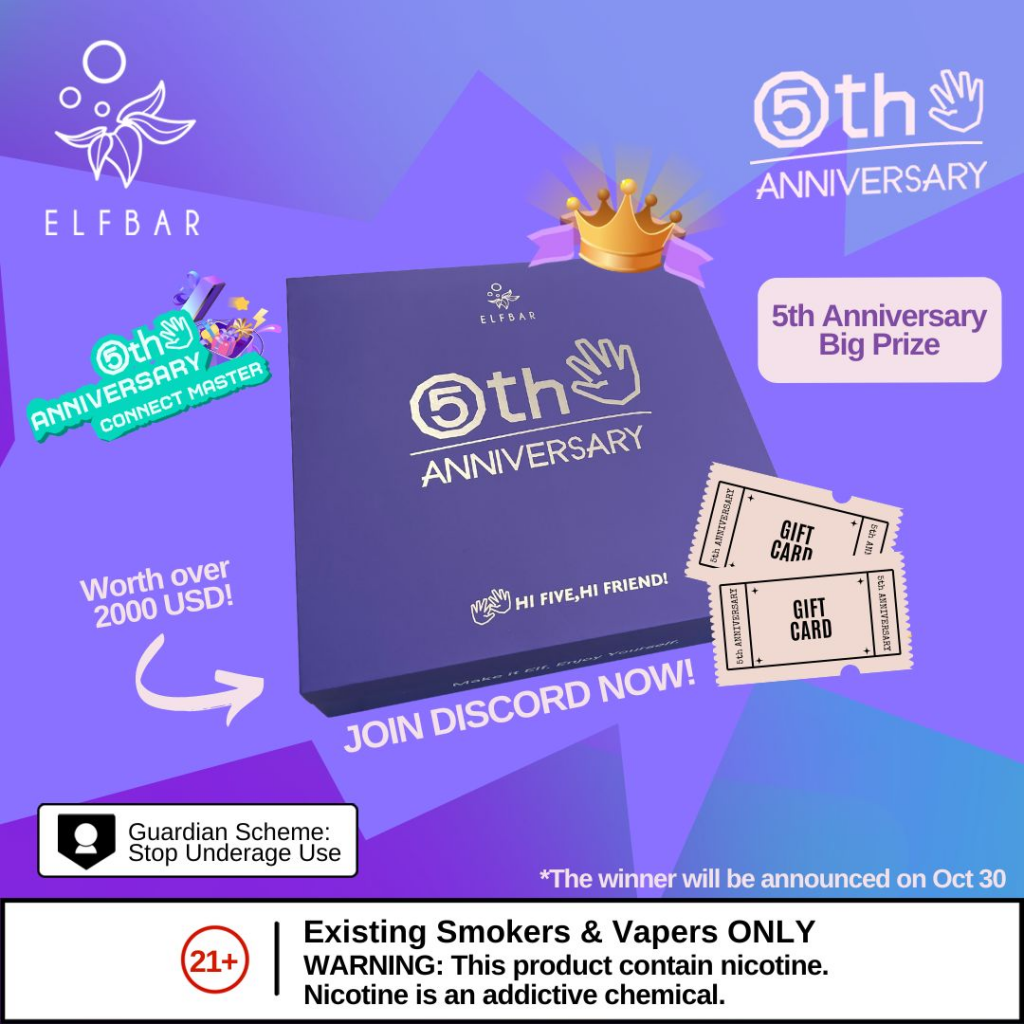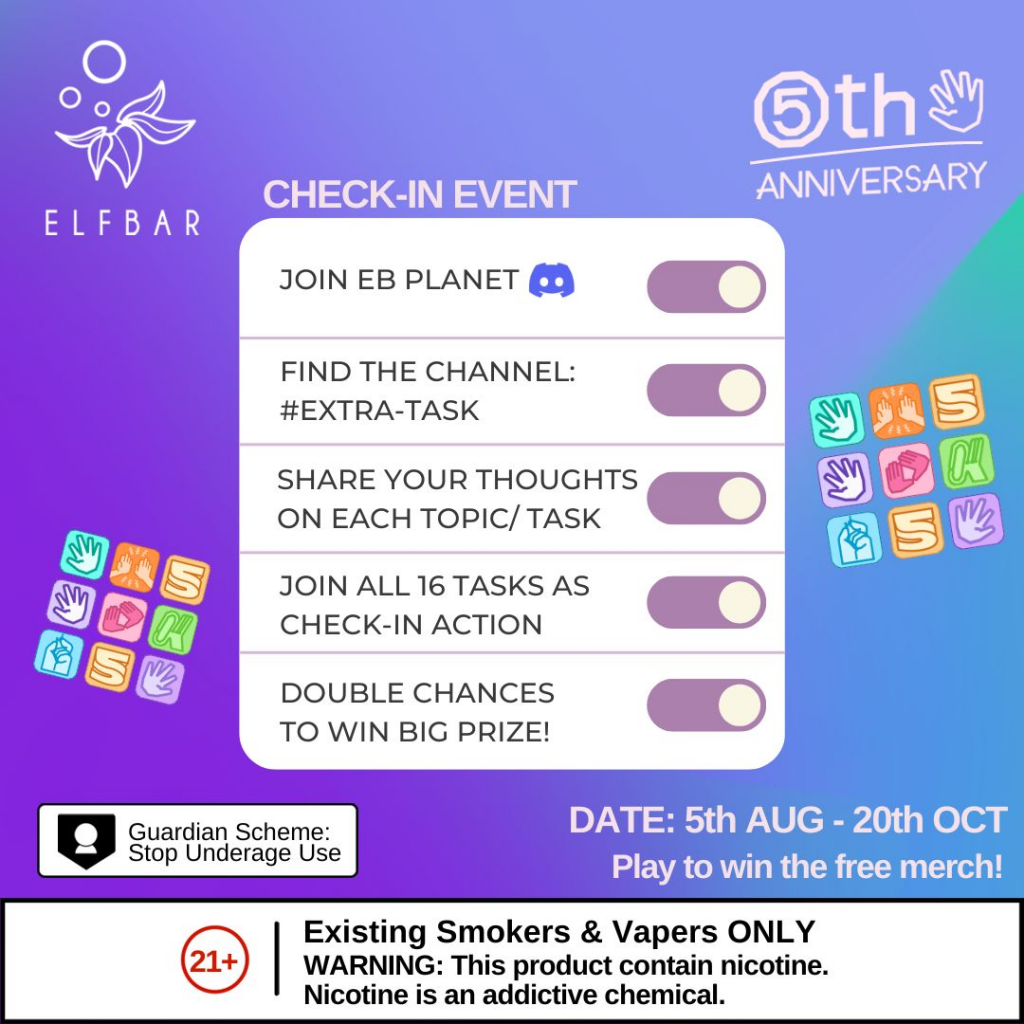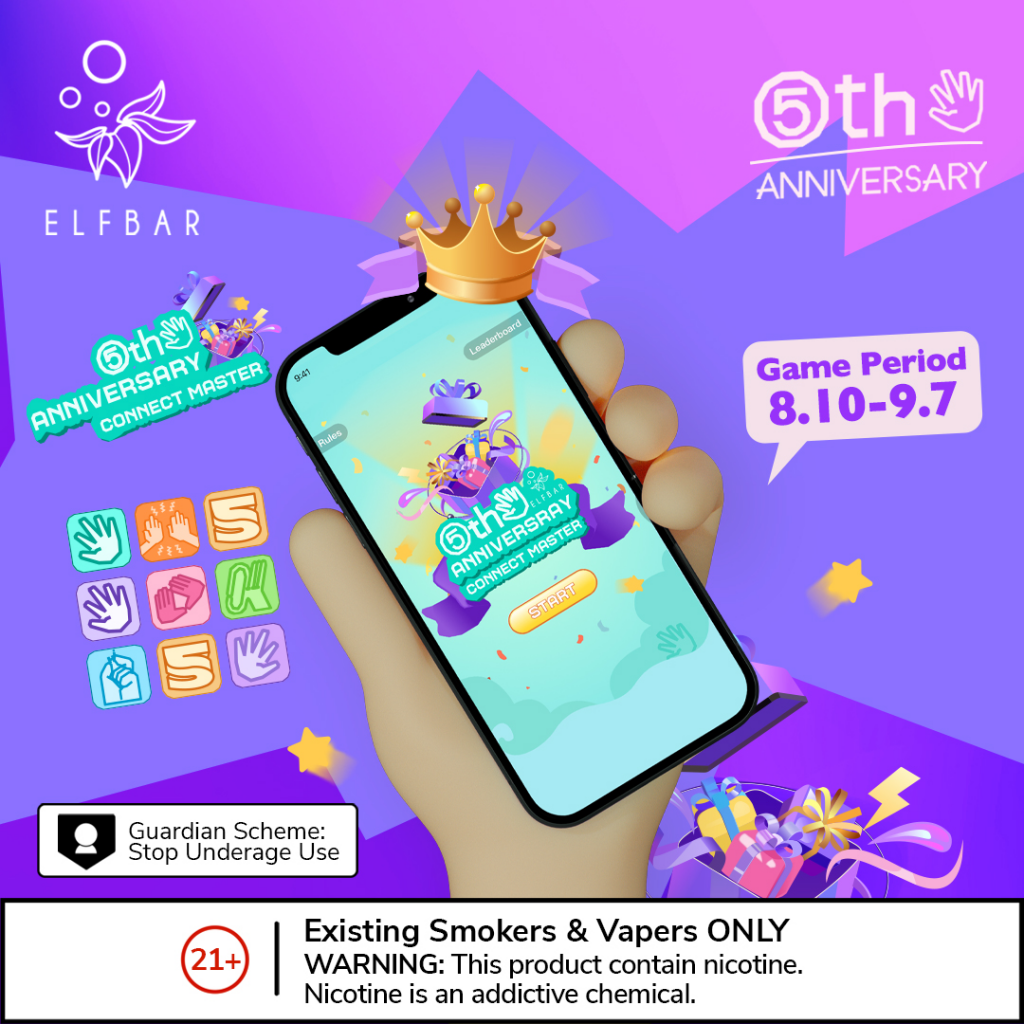 Celebrate with ELFBAR and Create Unforgettable Memories! 🎊
ELFBAR is proud of its achievements and growth over the past five years. It has become one of the most popular brands of disposable e-cigarettes in the market, thanks to its innovative products and services. It has also built a loyal fan base that supports and loves its brand.
ELFBAR hopes that its customers enjoy its 5th-anniversary celebration and have a blast with it. It invites them to celebrate together and create unforgettable memories!
Join ELFBAR's Discord channel now: discord.gg/eb-planet
Adult Only The gift card is not applicable for purchasing any ELFBAR Product and is not exchangeable for cash. ***The Sponsor reserves the right at its sole discretion to cancel, terminate, modify, or suspend the event should (in its sole discretion) a virus, bugs, non-authorized human intervention, fraud, or other causes beyond its control corrupt or affect the administration, security, fairness, or proper conduct of the Event. ***