Read Time:
1 Minute, 31 Second
MAY 12, 2022,Forbes release the Global 2000 List of 2022. As a listing company, Smoore International Holdings (Also known as a the parent company of brands Vaporesso/Feelm/CCELL) ranks No.1788 in the list. SMOORE take this ranking with MARKET CAP $13.3B, meanwhile, the company ranks #1319 by profit and #1246 by market value.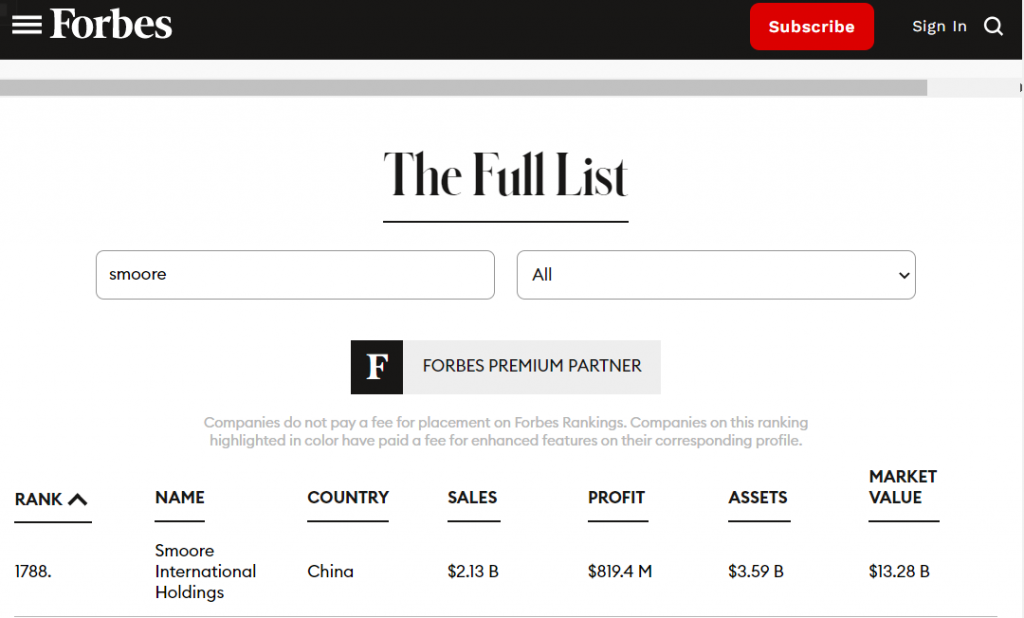 Forbes Global 2000 ranks the largest companies in the world using four metrics: sales, profits, assets, and market value. Market turbulence has pushed down the minimum market value to be considered for the 2022 list to $7.6 billion compared to $8.26 billion in 2021, but the minimum for all other metrics is up over last year.
Berkshire Hathaway took the No. 1 spot for the first time since Forbes started publishing the Global 2000 in 2003, dethroning the Industrial and Commercial Bank of China, which dropped to No. 2 after nine consecutive years at the top of the list. ​​Big oil rebounded rapidly from last year's low ranks, boosted by rising oil prices. ExxonMobil is No. 15 this year, up from No. 317 in 2021 and Shell is No. 16, up from No. 324. Both companies saw profits swing back into positive territory after last year's losses.
As a group, the companies on the 2022 Global 2000 account for $47.6 trillion in revenues, $5.0 trillion in profits, $233.7 trillion in assets and $76.5 trillion in market cap. There are 58 countries represented on the 2022 list. The United States has the most with 590 companies, followed by China/Hong Kong (351) and Japan (196).
Forbes used the latest-12-months' financial data available to us as of April 22, 2022 to calculate the metrics used for our ranking.
Source: Forbes  EDITED BY ANDREA MURPHY, AND ISABEL CONTRERAS
0
0