Read Time:
4 Minute, 27 Second
With the global prevalence of disposable e-cigarettes, there are growing concerns about the environmental problems caused. As one of key influencers of electronic atomization technology companies, as well as the parent company of VOOPOO, ICCPP Group takes these problems seriously and its ODM+ business has creatively developed world's 1st new dual environmentally-friendly disposable vape solutions,named "Cyclo" series, which combines the concept of detachable and biodegradable, ahead of the industry in advance to achieve user portability and recyclability, will be grandly unveiled at the Vaper Expo UK 2023.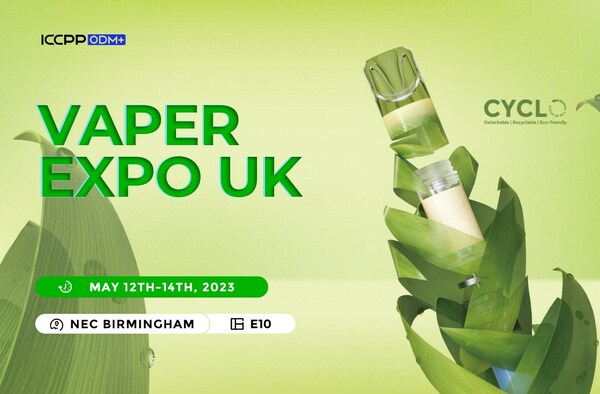 Patented PLA Material: The Key to Make Stable Biodegradability Reality 
The "Cyclo" series are made with our exclusive and patented PLA material, a biodegradable material that is made from starch raw materials proposed from corn,a renewable plant resources,and which can be degraded into carbon dioxide and water in 3-6 months after being recycled and landfilled in the soil, making it a more environmentally friendly material.
In addition, ICCPP has gone through thousands of trials and tests and created a unique internal structure and process to further enhance the stability of unique PLA material, making it maintain its initial strength after thousands of drop and impact tests, to greatly improve the stability and safety of PLA e-cigarette sticks, without destroying the original biodegradable advantages of the material.
Leadless and Modular Design: Making Detachability A Reality
ICCPP's commitment to environmental sustainability goes much further than just material selection.
We have implemented a wide range of environmentally-friendly design features, including no-soldering lead-free design and pre-automated modular assembly. These design features mean that "Cyclo" vape solutions can be easily disassembled for recycling or disposal, minimizing the environmental impact of manufacturing and using processes.
Multiple Options for Atomization Coils: The Addition of Environmental Concepts
ICCPP's commitment to environmental sustainability does not end with the product itself. We have also advanced atomization coil technology into "Cyclo" series, resulting in a longer lifespan, less material waste, and a more stable and pure taste for vapers.
The atomization coil technology in the "Cyclo" vape solutions includes the mesh coil technology and the Gene Tree ceramic coil technology. On one hand, our mesh coil technology combines different resistivity application scenarios with a unique multi-layer distribution structure to precisely control the power at a single point and precisely calculate the heat field coverage at a single point to so that the heat is evenly distributed, resulting in a stable, perfect and pure taste.
On the other hand, the Gene Tree ceramic coil technology uses the exclusive powder-free environmental-friendly technology process, nano-microcrystalline ceramic ceramic material fired at 3000°, and a multi-layer A+ grade oil guide and oil lock aperture structure to provide more stable and uniform heating. This unique combination of technologies ensures that "Cyclo" e-cigarettes solutions provide customers with more puffs, purer tastes, greater flavor consistency and a superior vaping experience, as well as less environmental concerns .
The Origin of "Cyclo": The Commitment of ICCPP to the Environment and Society
In view of these, we name the electronic cigarettes solutions "Cyclo", representing our dedication to creating a closed-loop, circular product cycle that is both environmentally-friendly and sustainable. Also,the slogan of "Cyclo" is "Cycle of all things", and it reflects our dedications and determination to promoting environmental sustainability in all areas of our business.
In conclusion, the "Cyclo" series of e-cigarettes are the perfect choice for those who want an environmentally-friendly and sustainable vaping experience. With biodegradable materials, recyclable design features, cutting-edge atomization coil technology, as well as our commitment to environmental responsibility, we invite you to join us in the journey towards a more sustainable future.
Of course,apart from "Cyclo" eco-friendly products, ICCPP ODM+ brings dozens of vapes including refillable pods and disposable pods for UK e-cigarette enthusiasts and industry experts that meet local market flavor and puff preferences and also obey local regulations. Welcome to E10 booth at NEC of Birmingham and we look forward to seeing you on May 12th-14th 2023.
1)About ICCPP ODM+:
ICCPP ODM+ is an innovative ODM strategic cooperation model created by ICCPP Group in 2022, which puts forward the business proposition of "branding first, product integrating technology and marketing".
Through all-round innovations and breakthroughs in technology+, product+, flavor+, quality+, compliance+ and marketing+, ICCPP ODM+ provides more premium vape solutions and services for customers' brands, so as to bring a healthier and happier electronic atomization life to global consumers and to achieve long-term development of both customers' brands and ICCPP ODM.
2)About ICCPP Group:
ICCPP Group, the parent company of VOOPOO, is a comprehensive electronic atomization ecological group with the whole industrial chain layout. It is rapidly developing with a new business model of matrix, internationalization and platform, integrating technology R&D, product design, intelligent manufacturing, brand operation and supply chain management.
With 9 years of full industry chain layout and global localization, ICCPP's electronic atomization products and solutions have been applied in more than 70 countries worldwide, covering 100,000 offline outlets and more than 36 million consumers.
SOURCE ICCPP
0
0