Read Time:
1 Minute, 28 Second
ZOVOO, a world's leading compliant disposable e-cigarette brand, has been honored with a 2023 Red Dot Award for its innovative product, the DRAGBAR Z700 GT. This award is one of the most prestigious design competitions in the world, organized by the Design Zentrum Nordrhein Westfalen in Germany.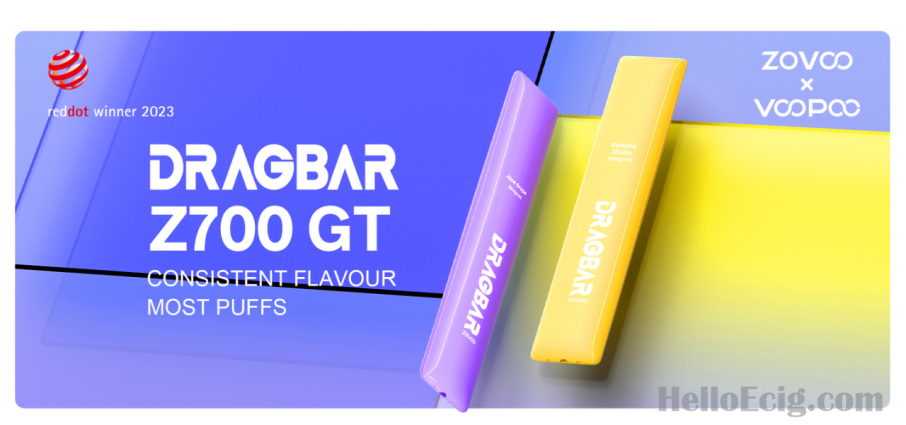 A Sleek and Modern Design
The DRAGBAR Z700 GT features a sleek and modern design, with a thickness of only 9mm. It is one of the thinnest vapes on the market, and a model of industrial design for its ultimate aesthetic appearance. This ultra-thin disposable vape is compact and portable, making it the perfect option for those who are always on-the-go.
A Smooth and Satisfying Vaping Experience
The device can provide up to 700 puffs, and has a 2ml e-liquid capacity, ensuring users have a longer-lasting vaping experience. Its pre-filled e-liquid system is available in a wide variety of flavors, catering to different preferences and tastes. Moreover, it adopts an exclusive self-developed technology-GENE TREE ceramic coil technology, which allows the product to produce consistent flavor and large volume cloud with efficient nicotine delivery and zero dust generation.
A Compliant and Responsible Product
The DRAGBAR Z700 GT is not only outstanding in design and technology, but also compliant with TRPR&TPD regulations. It meets the highest standards of safety and quality, and demonstrates ZOVOO's commitment to responsible vaping.
A Worthy Winner of the Red Dot Award
The Red Dot Award recognizes outstanding products in various categories such as Industrial Design, Communication Design, and Product Design. The DRAGBAR Z700 GT is a worthy winner of this award, as it showcases ZOVOO's innovation and excellence in the disposable e-cigarette industry.
0
0