Read Time:
2 Minute, 36 Second
NOVOBAR, a leading disposable vape brand, unveiled its latest product, the AL9000, at the 2023 Atlantic City CHAMPS Trade Show, the premier B2B expo serving the smoke shop industry, held from May 9th to May 11th. The event was attended by smoke and vape shops, dispensaries, glass blowers, online marketers, and cultivation product and service industry professionals from around the world.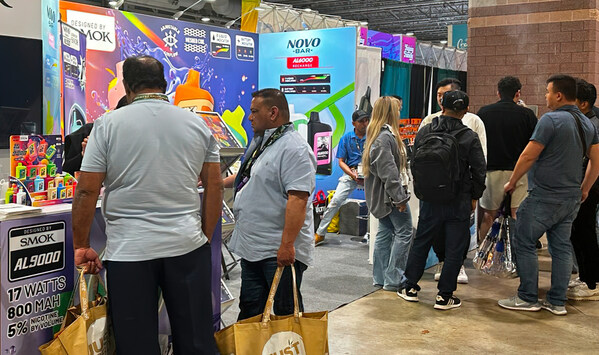 Established in 2020, NOVOBAR is a relatively new brand in the US market, committed to using cutting-edge technology to provide customers with an exceptional taste and atomization experience. NOVOBAR has experienced robust growth, particularly with its previous product, AL6000, which has gained popularity and attracted the attention of customers, vape & smoke retailers, shops, and distributors. The new product, AL9000, is expected to take NOVOBAR's success to new heights.
Designed by SMOK, a well-known vape company, the AL9000 delivers up to 9000 puffs, making it ideal for vapers who prefer large puff disposable vapes. The design of the AL9000 is inspired by flowing art paintings, featuring a unique and colorful pattern that sets it apart from other disposable vapes. The shape and size of the device were carefully chosen to ensure a comfortable grip, while the adjustable airflow allows vapers to customize the amount of vapor and flavor they experience.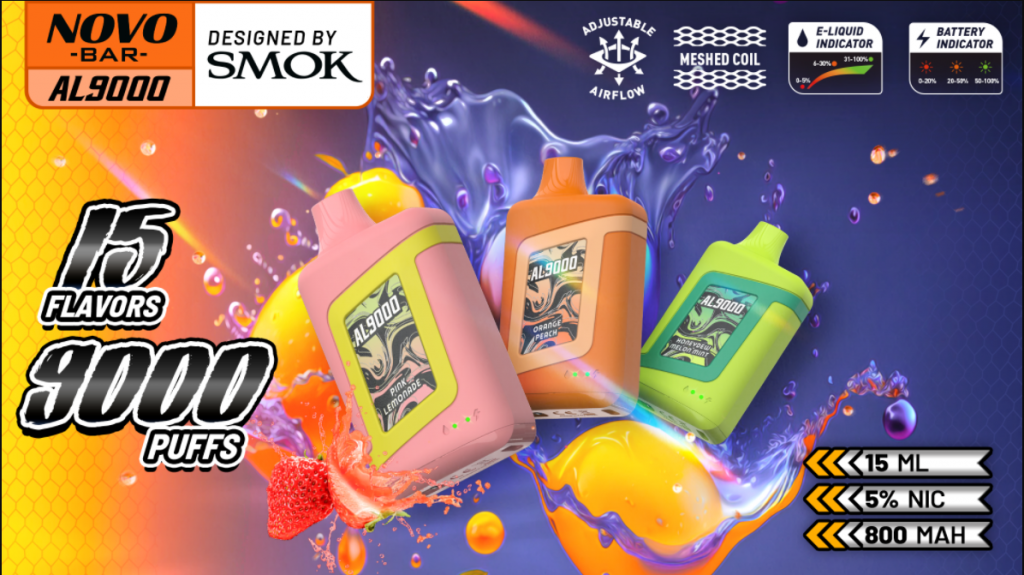 The AL9000 is the industry's first 0.7-ohm mesh disposable vape with advanced atomization technology for a smoother, richer experience. It's the closest to an open vape system on the market, offering an unparalleled vaping experience and top-notch flavor for disposables! The upgraded mesh coil in the AL9000 creates a dense and smooth vaping experience with great flavor reproduction and consistency. This means that vapers can enjoy a flavorful and rich experience with every puff.
The e-liquid and battery indicators are standout features that make the AL9000 disposable vape a top choice for vapers who want a hassle-free experience. It keeps vapers clear about the remaining battery life and e-liquid capacity with battery & e-liquid indicator. With adjustable airflow, battery and e-liquid indicators, and a consistent and smooth flavor profile, the AL9000 is sure to deliver an enjoyable and customizable vaping experience. And with a powerful 17 watts and a 5% nicotine level, the AL9000 provides a smooth and satisfying hit with every puff.
Main Features of AL9000
Up to 9000 Puffs
Upgraded 0.7-ohm mesh coil
15 Flavors Available
Adjustable Airflow
Nicotine: 5%.
Type-C fast charging.
Capacity: 15ml.
Battery & E-liquid Indicator.
Rechargeable battery.
Flowing art paintings design.
At the CHAMPS Trade Show, the AL9000 generated a lot of interest from vape enthusiasts, retailers, wholesalers, and distributors who visited the NOVOBAR booth for product testing. With an emphasis on innovation, great flavors, and top quality, it's easy to see why the AL9000 has become so popular.
Looking forward, NOVOBAR will continue to prioritize consumer needs, expand its product line, create high-quality products for vapers worldwide, and drive the growth of the vaping industry.
For more information, please visit.
https://www.novobar.com/product/disposable/al9000
0
0