Read Time:
2 Minute, 12 Second
Vaping technology has the power to create positive change in the lives of millions of smokers across the world. In the UK, smoking prevalence is estimated at 78% amongst homeless adults, compared to 13.8% in the general population.
With this in mind, Innokin & Vape Dinner Lady are partnering to donate two hundred MVP Pod kits and four hundred bottles of e-liquid to Simon Community Scotland, a homelessness community outreach charity based in Glasgow and Edinburgh. Innokin hope this first donation can be the start of a long-term project that reaches vulnerable smokers across the UK.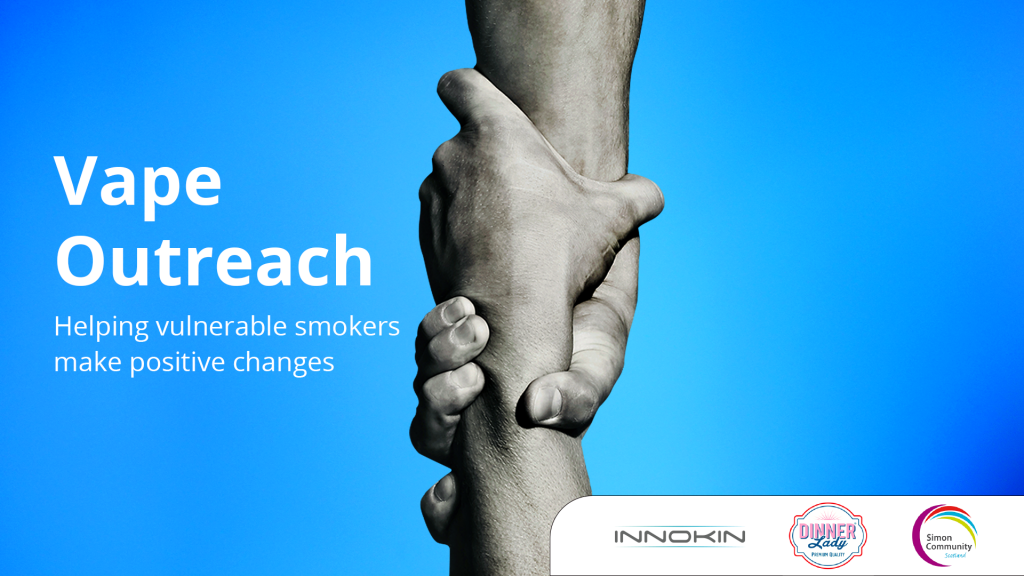 Simon Community Scotland works to combat the causes and effects of homelessness. A range of services and initiatives are offered across Glasgow, Edinburgh, and Central Scotland. Street outreach teams work within these communities to provide accommodation and housing support to people who are sleeping rough or are at risk of becoming homeless and have been doing so for over fifty years.
Two hundred MVP Pod kits and four hundred bottles of e-liquid will be distributed by Simon Scotland to smokers who otherwise would not have access to vaping products or would not have the necessary support network to start a transition from combustible tobacco. We aim to gather feedback from the initial donation, which will help gain an understanding of the specific challenges of the initiative and make further donations in the future.
As a leading global manufacturer of vaping devices and e-liquids, Innokin now feel it's time to take action on smoking, especially in vulnerable communities. Innokin are extremely grateful to Dinner Lady for their fantastic support of the initiative.
George Xia, Innokin Co-founder said: "Innokin's mission has always been to help people improve their lives and offer less harmful alternatives to adult smokers. Many smokers in the UK don't know how or can't afford to switch from smoking to vaping. Partnering with Vape Dinner Lady and a charity like Simon Scotland gives us the opportunity to make a real positive impact."
Commenting on the donation, John Taylor, Dinner Lady Chief Marketing Officer said: "This is our first collaboration with Innokin and Innokin are delighted to be supporting Simon Community Scotland in this way.
In the UK more than two thirds of homeless adults smoke and lack the necessary support network to switch. Together with Innokin, Dinner Lady can help by providing the very best vaping products the market can offer".
The partnership with Dinner Lady and Simon Scotland aims to reduce the overall consumption of cigarettes throughout the homeless community in Scotland, with a view to reaching more smokers and regions in the future.
0
0