Read Time:
1 Minute, 52 Second
Qisitech invites all vape enthusiasts to stop by booth NO.4080. They know that innovation is the driving force of every business. If you are looking for new products to impress the market, they are presenting diverse genres of enticing disposables and pod vapes that have been a hit on the market, and will definitely inspire you!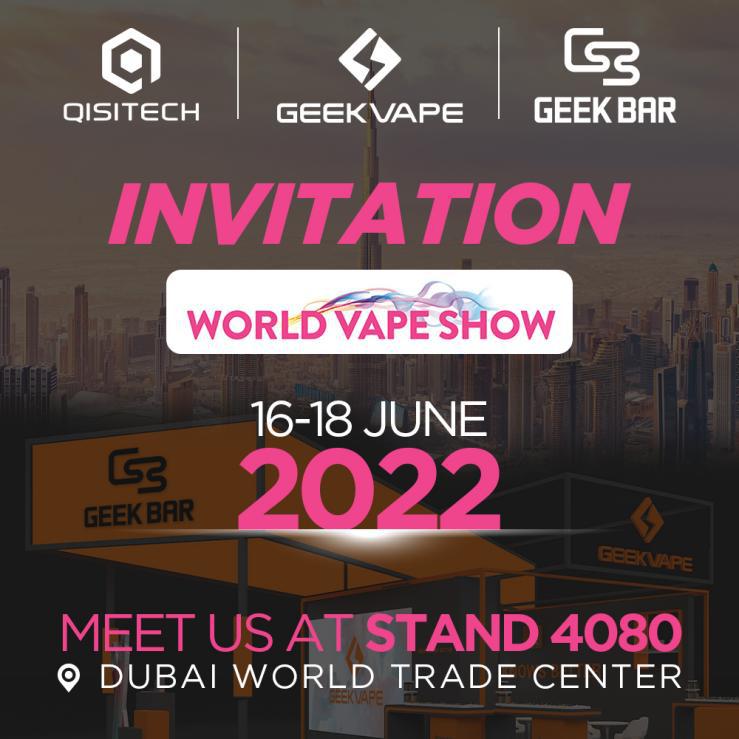 Not only Geekvape, a worldwide pioneering innovator and health practitioner in the vape industry, but Geekbar, known for its premium disposables, will attend this great event with Qisitech together. Vape lovers are more than welcome to join us and enjoy the premium vapes, ranging from disposables to vape mods. Fulfill your taste buds and enjoy this flavorful sensation with all types of vapes at one booth. Free souvenirs are waiting for you as well. Tickets are available at worldvapeshow.com.
"The e-cigarette market in Dubai is thriving, and we know that there is a growing demand for vaping products. High quality and innovative vapes are the heart and soul of the World Vape Show," said Lawrence Wong, VP of QISITECH. "We're excited to showcase our new products which we hope will captivate your attention. We sincerely invite vape advocates to visit our booth and spend a wonderful moment with us."
Who is Geekvape and Qisitech?
Geekvape, founded in 2015, is an innovative technology company headquartered in Shenzhen, China. Geekvape's mission is to produce innovation and create reliable user experience for vape industry. Geekvape always listen to different voices, aiming to contribute a positive impact on our society and bring a healthier vape experience to the public. Serving more than 30 million customers globally with the highest standard, Geekvape connects actively on social media with over 2 million people who are creative at work and confident in life.
Qisitech, an industry-leading e-cigarettes manufacturer, was founded in 2016. Qisitech is the subsidiary of the worldwide pioneered innovator Geekvape. They are committed to creating reliable and cutting-edge vaping hardware, including but not limited to, disposable vapes, vape pod systems, and CBD vaporization devices. Qisitech helps vaping brands identify themselves in the competitive market by providing them with comprehensive vaping OEM/ODM solutions. For more information, please visit www.qisitech.com and www.geekvape.com