Read Time:
1 Minute, 36 Second
On June 15th, the "2022 6th Standardization Development Conference of Electronic Cigarette Industry and the First Export Service Development Conference" was held by the Electronic Cigarette Industry Committee(ECCC) in Shenzhen. A total of 944 people attended the conference, and nearly 1 million people attended the conference online. The conference came with the applause of the Vape Valley Award Ceremony.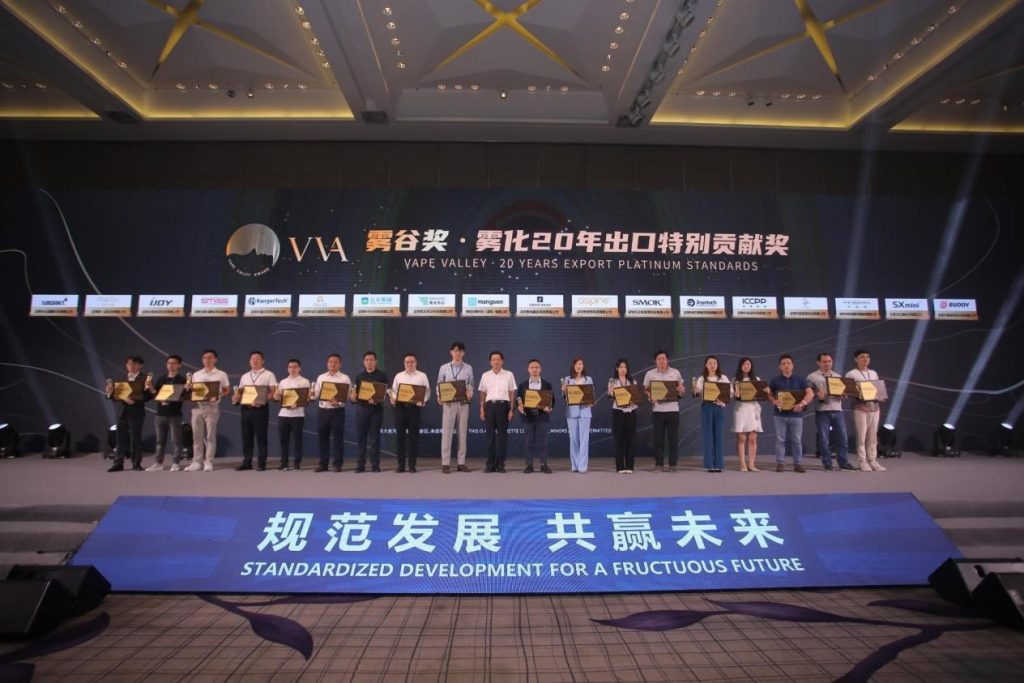 The first Vape Valley Award commended dozens of outstanding e-cigarette exporters. This conference strongly supports China's e-cigarette industry to further build a standardized and orderly business environment, promotes Chinese e-cigarette companies to further their export advantages, and creates a new level of export business under the premise of compliant development.
The Awarded Enterprises List:
Vape Valley Special Contributions Platinum Awards
KangerTech
First Union Group
Smoore International
ALD Group Limited
Aspire Technology
SXmini Technology
HANGSEN Holding
SMOK Technology
INNOKIN Technology
Joyetech Group
HEAVEN GIFTS Technology
GREEN SOUND Technology
Smiss Electronics
IJOY Group
TESLACIGS Technology
CLOUPOR Technology
Woody Vapes Technology
iBUDDY
They are awarded for being the pioneers at the early age of e-cigarettes. They were the brave few that were first to open up the markets of e-cigarettes and introduced them to the world.
Vape Valley Export Excellence Awards
Relx International
ZINWI Bio-tech
Elego Technology
HQD Technology
UWELL Technology
BBTANK Technology
VapeEZ Technology
Geekvape Technology
JWEI Electronics
DSvaping Technology
HONGFU Bio-tech
ArcTic DoLphin Technology
HAPPY VAPING Technology
U-GREEN Bio-tech
FEELLiFE Holdings
MASKKING Technology
These awards for the recognition of upholding great standards and great global influence in the export field.
Vape Valley Novel Exporter Awards
iPURE Bio-tech
VOZOL Technology
KK VAPING Technology
MXM Vapor Technology
PNDUS Bio-tech
Qisheng Industrial
MOOSEE Technology
Ruiyi Technology
Jiangwei Technology
This award recognizes cutting-edge e-cigarette enterprises with good growth momentum in the export field.
Vape Valley Superior Supply Chain Awards
TIMEYAA Electronics
LANDMARK EXHIBITION
SCD Logistic
FENGDA Logistic
Creativity Exhibition
ZHENG DA SHENG PRINTING & PACKAGIN
HGB BATTERY
HCD Industrial
Yunsen Industrial
EVE Energy
Jinjia New Smartpackaging
Hosto Logistics
Tiptop Logistics
Ruimeiyi Technology
BIWO New Energy
Super Cargo Modern Logistics
Yongdeli New Energy
Element Testing
GalaxyLink Technology Services
XinHouTai Electronics
This award encourages companies that make positive contributions to product development, innovation, and export in the field of the e-cigarette supply chain.