Read Time:
3 Minute, 31 Second
E-cigarette brand company Ispire Technology Inc. (Ispire Technology) has officially started book-building (stock code: ISPR), with an offering price range of 6.00-8.00 US dollars, expected to raise 36 million to 48 million US dollars, and is expected to be listed on the Nasdaq Stock Exchange in the United States on March 1, 2023, with an estimated market value of 392 million US dollars.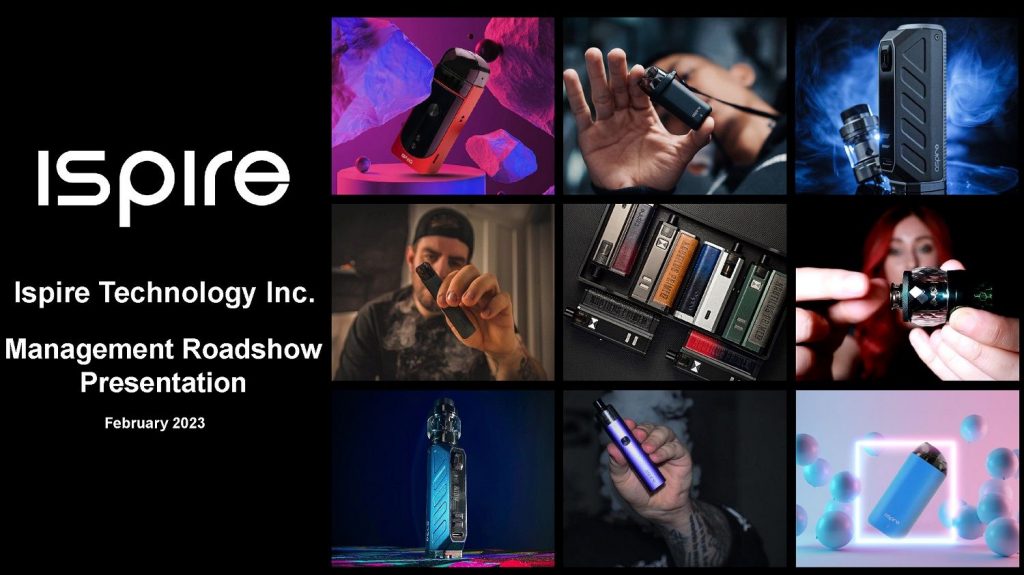 Ispire launches IPO
According to the ISPR prospectus information disclosed on the official website of the US Securities and Exchange Commission, Ispire Technology Inc is a company headquartered in Delaware, USA, engaged in the research and development, design and manufacturing of branded e-cigarettes and cannabis vaporization products, and through direct sales and distribution mode to achieve product commercialization.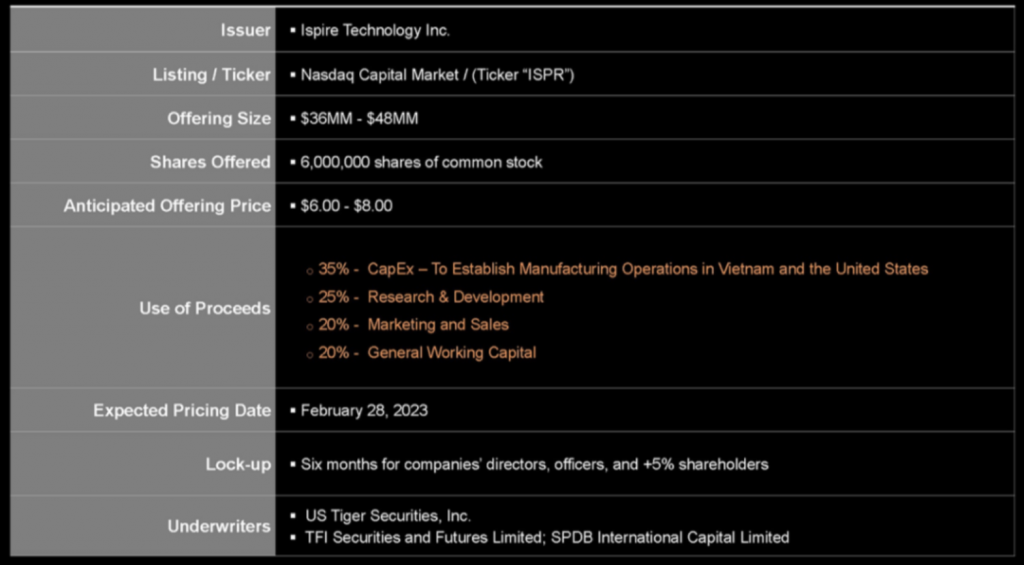 Ispire Technology's relationship with Aspire
The company was established on June 13, 2022, and has two operating companies, namely Aspire North America Company and Aspire Technology (Hong Kong). Aspire North America Company was established on February 22, 2020, and its 100% ownership was transferred to Aspire Global on September 23, 2020, and then transferred to Ispire Technology on July 29, 2022; Aspire Technology is a Hong Kong company registered on December 9, 2016, and its 100% equity has been completed on July 29, 2022 Transfer, become one of Ispire Technology's operating companies.
The equity structure shows that Liu Tuanfang, chairman of domestic leading e-cigarette manufacturer Yijiate Aspire, and his wife Zhu Jiangyan are its controlling shareholders. Before listing, the couple jointly held 71.5% of the company's shares. After listing, they will hold 63.8%. Liu Tuanfang also serves as CEO of Ispire Technology. Shenzhen Yijiate Co., Ltd. is also the owner of the "ISPIER" trademark.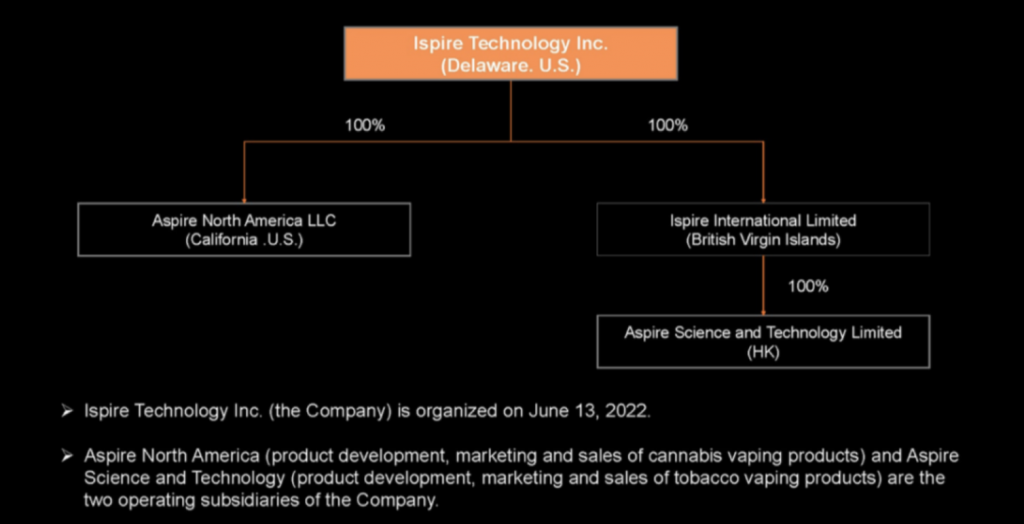 Comprehensive information shows that Ispire Technology has a close relationship with Yijiate Aspire. Before Ispire submitted its listing application, Yijiate Aspire submitted its prospectus to the US Securities and Exchange Commission under the name of Aspire Global Inc on June 21, 2021. It plans to list on Nasdaq and plans to issue 15 million shares. Raise about $135 million, but then withdrew its listing application from the US Securities and Exchange Commission (SEC) on May 9, 2022.
Ispire Technology's performance and growth potential
From the performance data revealed by the prospectus, Ispire Technology has built a global distributor network consisting of more than 150 distributors, and sells tobacco vaporizer technology products to more than 30 countries/regions in the world under the Aspire brand. The main markets are Europe and Asia Pacific region, excluding China and Russia. At the same time, cannabis products under the "ISPIRE" brand adopt a direct sales model. They started selling cannabis smoking hardware in the United States in December 2020. They do not sell e-cigarette products and have recently started to layout in Canada and Europe.
In addition to the two major brand products "Aspire" and "ISPIRE", Ispire Technology is also gradually expanding the research and development and sales of OEM and ODM e-cigarette vaporization technology products to achieve diversified business development.
In terms of performance, in the past fiscal year 2021 and fiscal year 2022, Ispire Technology's total sales revenue was US$63.415 million and US$88.095 million respectively, a year-on-year increase of 38.9%. Among them, the tobacco product segment is the company's main source of income, with revenue increasing from US$61.271 million in fiscal year 2021 to US$68.117 million in fiscal year 2022; revenue from the cannabis product business segment also increased year by year, from US$2.144 million in fiscal year 2021 to fiscal year In fiscal year 2022 it was US$19.978 million, an increase of 831.8%.
The listing document shows that Ispire Technology is planning to develop manufacturing business in Vietnam and California. It is expected to start preparations in mid-2023. The factory will mainly engage in parts assembly work. The funds raised from this issuance will be used by Ispire Technology for completing investment and construction of production lines in Vietnam and California in the United States, continuously improving research and development capabilities, strengthening the global terminal channel network construction of its own brands and other purposes.