Read Time:
8 Minute, 59 Second
Since 2018, the number of e-cigarette users worldwide has doubled from 41 million to 82 million in 2021. Other surveys have shown that teens and young adults make up the majority of e-cigarette users, with the greatest prevalence amongst the 15 – 17-year-old age group. In parallel, social media has become an inseparable part for the lives of millions of youths worldwide. While social media has the capacity to spread positive content, it has also played the damaging role of promoting the harmful practices of vaping. With that said, while e-cigarettes are still a relatively new trend, studies have linked them to increased blood pressure, heart disease, gum inflammation, lung disease, brain development effects, and severe lung injury.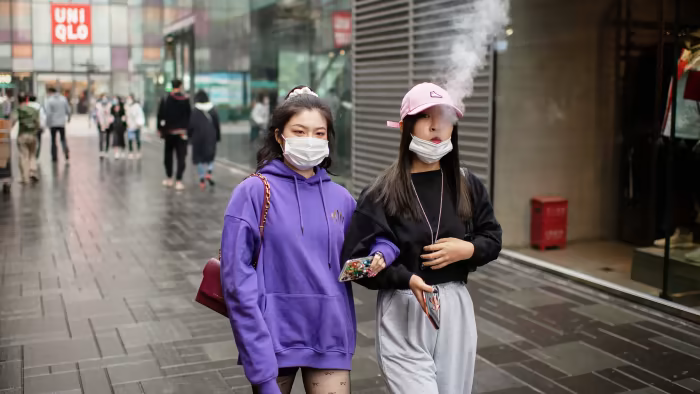 When it comes to China, as of 2018, the number of e-cigarette users stood at over 10 million, and current figures are naturally expected to be higher. Youths have increasingly driven this, with everyday use of e-cigarettes consistently higher among 15 – 24-year-olds than in any other age group. This is especially concerning given that most e-cigarettes contain nicotine which has proven to be more harmful to the brain development in adolescents, can significantly impact their mental health, and cause them to be at higher risk of turning into cigarette smokers later in their lives. Compared to Europe and America, there is also lower awareness of e-cigarettes in China and frequent misleading through media and advertisements regarding the harmful consequences of vaping on teenagers' health.
This has led to increased smoking initiation among adolescents in China who have never used cigarettes. Consequently, as e-cigarette use grows worldwide and within China, the Chinese government has moved to crack down on its e-cigarette industry and is looking to do more.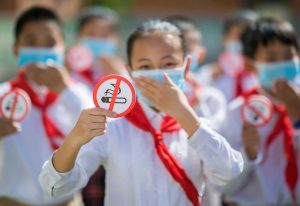 In light of World No Tobacco Day on May 31 and the World Health Organization's (WHO) China Office's further focus on a smoke-free generation for Children's Day on June 1, China's commitment to safeguarding the younger generation against a vaping epidemic should not be overlooked. It also offers a unique opportunity for us to dive deeper into this area to assist in raising anti-smoking awareness as well as providing an understanding of what China is doing to create a potential vape-free culture amongst its youths.
The vaping epidemic in China
According to the WHO, China is the largest tobacco market and the largest e-cigarette producer globally. More than 300 million smokers (27% of the adult population) are estimated to live in China. Additionally, China produces around 90% of the world's e-cigarettes, mainly from the city of Shenzhen in southern China: a city coined the "vaping capital of the world." Before the recent crackdown on the vaping industry, the Chinese market was booming and soon turned into one of the fastest growing e-cigarette markets in the world. Namely, the domestic vapes market is worth USD 1.3 billion, exporting almost USD 8 billion worth of e-cigarettes in 2020 alone.
Until recently, there has also been a lack of systematic regulations on vaping. Before the introduction of an official legislation under the tobacco monopoly law in November 2021, the e-cigarette industry had been operating in a regulatory grey area with no comprehensive nationwide framework and standards to regulate the safe manufacture and sale of nicotine salt-based e-cigarettes. This is mainly because e-cigarettes were not categorized as tobacco products and therefore not put under strict regulations.
Negative influences on Chinese social media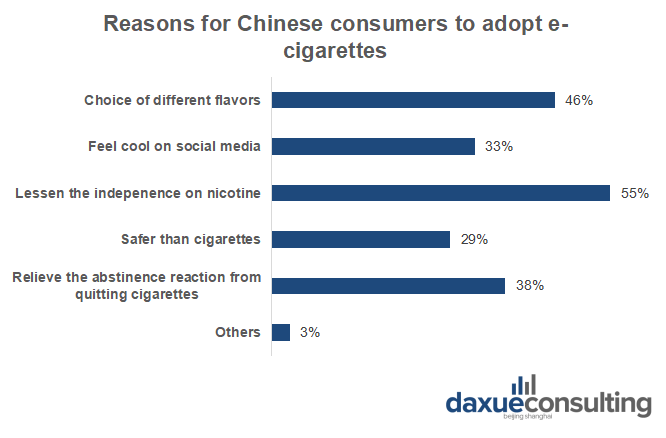 With youths making up the majority of e-cigarette users worldwide, many e-cigarette brands have used social media to promote the vaping subculture among these adolescents. This glamorization of vaping as a "safer" alternative to cigarettes through an array of online advertisements has not spared Chinese social media either. A study by Daxue Consulting showed that almost one-third of surveyed users in China consume e-cigarettes to "feel cool on social media".
On the video platform Bilibili, simply searching "vapes" (or "电子烟" in Chinese) brings up over a hundred videos on vaping. A handful of popular videos feature influencers recording themselves consuming e-cigarettes, including foreign influencer vAustinL (>100,000 followers) and local influencer Jing Hanqing (>9 million followers).In addition, there are many smaller Bilibili channels with videos of reviews, advice, and tricks for e-cigarette users.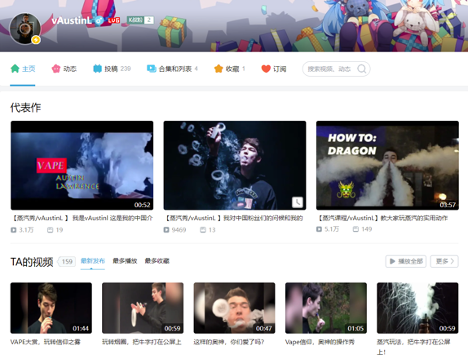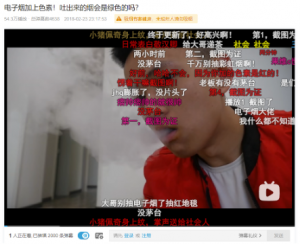 Other social media platforms solely on mobile applications are also popular spaces for brands to promote their e-cigarette products despite online sales of e-cigarettes being banned since November 2019. Almost all followers of such vaping influencers already consume or are keen to consume e-cigarettes as well, with many asking for purchasing sources in the comment section.
The fight against e-cigarettes in China
In response to the rise in young e-cigarette users in China, there have been numerous regulations implemented by the Chinese government and campaigns organized by non-governmental organizations (NGOs) to raise awareness of the harms of e-cigarette use among youths. Naturally, the responses from both parties complement each other, with one targeting e-cigarette producers and the other targeting e-cigarette consumers.
Government regulations for the e-cigarette industry
Talks around setting the new Administrative Measures for E-Cigarettes were introduced by the State Tobacco Monopoly Administration as early as March 2021 to officially categorize e-cigarettes as tobacco products and subject them to the same licensing, production, taxation, and import/export rules. They were implemented on May 1, 2022, with technical standards approved by the market regulator to go into effect later in October this year. In fact, the scourge against e-cigarettes cannot be detached from the fight against conventional cigarettes. In this regard, the move from China to categorize e-cigarettes as tobacco products represents a huge step forward and may resonate with other countries as well.
Within this new regulatory environment, the State Tobacco Monopoly Administration has made efforts to limit both the production and sales of e-cigarettes. On the production side, they have detailed policies for controlling e-cigarette production capacity to avoid overproduction, managing supply and demand targets, and banning foreign investment in the retail of vaping products. In curbing sales, one of the crucial changes has been to ban flavored e-cigarettes, a major selling point attracting for young, first-time smokers.
Nowadays, e-cigarette firms can only sell their products through authorized channels, limiting vendors to selling only tobacco-flavored e-cigarettes. Meanwhile, technical standards have been introduced to include sealing the e-cigarette set and cartridges to prevent refilling and the addition of protection to avoid mishandling by children. Such regulations will come into effect later in the year, allowing the industry to clear their inventories and put products that comply with the newly introduced national standards on the market.
What have social media platforms done to follow regulations?
Despite this, more can be done to regulate the depiction of the vaping subculture on Chinese social media to minimize negative influences on young viewers. Since 2019, with the ban of online sales of e-cigarettes on e-commerce sites as well as on short video and live-streaming platforms, RELX Technology and SnowPlus, two big domestic sellers of e-cigarettes, pledged to shut down their online sales channels to prevent minors from purchasing e-cigarettes through the internet However, they have in turn expanded on their brick and mortar stores over the country. On video platform such as Bilibili, warnings are given on videos that feature vaping; however, the platform still does not require age checks to watch such videos. Though online sales are banned, social media provides indirect advertisement for the e-cigarette industry to youths, allowing it to continue having a significant online and offline presence.
NGO efforts targeting young e-cigarette users
While the government has control over the tobacco and e-cigarette industry, some NGOs have been playing an increasingly important and complementing role. Since its founding in 1990, the Chinese Association on Tobacco Control (CATC), an NGO fighting tobacco use in China, has achieved major turning points for China's tobacco control efforts, .
More recently, CATC specifically put effort into promoting smoke-free hospitals and schools, as well as tobacco-free ads, movies, and TV shows. These efforts significantly contributed to the 2019 regulation that banned the online sale and advertising of e-cigarettes "as concerns rose over how accessible the youthfully marketed product was to minors." Back in 2017, the WHO China Office also launched a campaign featuring young celebrities like TFBoys member Yiyang Qianxi and actress Guan Xiaotong to act as spokespersons and role models to further promote the message of a "smoke-free next generation."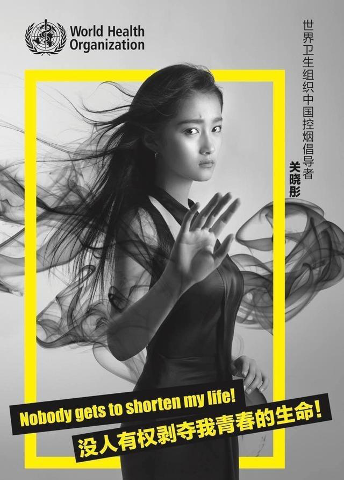 Working towards a smoke-free future
The most common misbelief by e-cigarette users is that if e-cigarettes are less harmful to their health than conventional cigarettes, they must be safe. Misinformation and the lack of awareness on the detrimental consequences of vaping form the crux of the growing e-cigarette crisis plaguing China's youths. In the saturated digital world that many youths immerse themselves in today, social media platforms give manufacturers a grey area to maneuver regulations targeting more traditional forms of advertising (for instance, the warning labeling on the cigarette packet).
This year, China has introduced official e-cigarette national standards, signaling its determination to join other countries in addressing youth vaping. Yet, where the government has limited control over people's behaviors and attitudes toward e-cigarettes, NGOs should be empowered to play a more prominent role – in this case, on social media platforms – to raise awareness and tackle misinformation. Likewise, China must continuously step up its game to look towards new solutions to target e-cigarette use that is increasingly plaguing its younger generation. This is of vital importance "not only for youth's health but also for the nation's future."
About The Authors
Marisa Lim
Marisa is a Singapore-based Junior Consultant with Bridge Consulting. With a background in Biomedical Engineering at the National University of Singapore, Marisa is an aspiring trailblazer with a passion for global health and social causes. Find Marisa on LinkedIn.
Stefania Jiang
Stefania Jiang is a Research Analyst Intern at Bridge Consulting. With a background in International Relations at Tsinghua University, she aspires to connect China and the world through cross-cultural communication, digital storytelling and knowledge sharing. Find Stefania on LinkedIn.

Source: Bridge  Beijing